Sample 1 ( Party in Friends Office for success in Business )
well, I am a party lover person and I have attended so many parties in my entire life such as birthday, aniversary, fresher party, farewell party and so on. however, there are few parties which I organized .according to me, with the help of parties, we get a chance to meet with our relatives as well as near and dear ones because everyone has a busy life .therfore, the party is the best way to get together with our loved ones. However here I would like to talk about a party which I organized for my friend to celebrate his success in business.
My friend name is Aryan and he is CEO of the creative minds. He is 32 years old and he started his company out 3 years ago. Aryan got huge success with his hard work in a very short period of time. He shared each and every matter with me. One day when I went to his office, on the time, he shared with me that, he got an opportunity to tie up with the foreign company. That was a piece of very good news for him or me.so, I decided to celebrate his success with others. Actually, I wanted to give him a surprise party.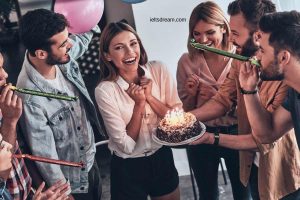 Therefore, I organized a party for him in his office and a few staff members also helped me to organize it. This was a big party so, it was not possible to manage all these things alone. Firstly we planned how to decorate the organization in the presence of Aryan. So at that time, I told a white lie to him and requested him to go with my hospital. He agreed to go with me, meanwhile, all his staff members decorated the whole organization beautiful.
I already did all food arrangements and invited some of our close friends and his family members.luckily, all the near and dear ones reached in office sharp 4 o'clock. I was very elated at that time because all the things had gone according to my plan. As he came back to his office, he was so surprised to see the decoration and our friends. He was very happy to get surprised and at the same time, he was a bit emotional as well.
Then we started at the party. Firstly we enjoyed the speech of his father who told us about his success and hard work story. After it, we enjoyed delicious food and dishes as well as dance on some Bollywood tracks. Overall, this was a totally fun and we enjoyed it a lot. He thanked me to make his success more memorable. So that was the time when I organized a party for my friend to celebrate his success.
Sample 2 ( Friend's Birthday Party at My Home)
Well, I love to go to parties. In India, people like to celebrate special occasions by organizing parties. Some parties are Grand parties but on the other hand, sometimes, few persons like to organize surprise parties for their near and dear ones. So here I would like to talk about a time when I organized a surprise birthday party for my friend. I describe it briefly.
About 4 years ago, there was the 18th birthday of my friend Lovepreet. I wanted to make it more special for him. So I decided to give him a surprise birthday party.
For this, some other friends had also involved in this plan. We decided to do it on the roof of my house. That day was Sunday. So Lovepreet stayed at his home to complete his pending works. But we were organizing for him and he did not know about it. On that day, we went to the supermarket and purchased necessary stuff such as flowers, ribbons, sweets, and so on to decorate the roof. We decorated the roof of my house as well as we did other necessary works.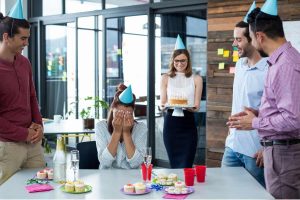 Then, we invited some friends as well as some relatives of Lovepreet with the help of his parents. Actually, his parents  involved in this party but they did not tell him the truth. After it, we ordered a cake from the bakery. Around 7 o'clock, I called Lovepreet on the mobile phone and I told him to come to my house urgently. So within 15 minutes, he came to my home. I took him to the roof of my house.
When he reached on the roof, he had so astounded by seeing so many people there. Suddenly, the persons started clapping for him as well as they give best wishes to him for his 18th birthday. Then, I said to him to cut the cake which one of my friends brought from the bakery.
We all give gifts to him. After it, we ate cake and other snacks which had cooked by my mom.
Apart from it, we danced together on the dance floor because we also took a musical system to the roof. Also, I clicked some photographs to save sweet memories of my life. Lovepreet thanked us for this surprise party. All in all, this is a surprise party which I organized for my friend. I enjoyed it.
Follow Up Questions–
Do children like surprise parties?
Yes they are. Some parents organize surprise birthday parties for their kids because they want to make them happy. Such the parties are more memorable than normal parties.
Do adults like parties?
Yes adult like to attend as well as organize parties. They think that only through parties, they can enjoy the each and every moment of their life. They invite their friends and other near and dear ones in party. Some persons like to do party at their home but some like to go to restaurant for celebrations.
Do you like loud music in party?
Well, in parties, I like loud music such as rock and pop music but It should not be deafening. More loud music creates problems for children and older persons.It  has called noise pollution.
have your parents ever organized your birthday party?
Yes of course, my parents organized a surprise birthday party for me on my 18th birthday. At that time, they invited only my friends. I remember that special occasion till now.