Chorleywood is a village near London whose population has increased steadily since the middle of the nineteenth century. The map below shows the development of the village. Write a report for a university lecturer describing the development of the village. You should write at least 150 words.
---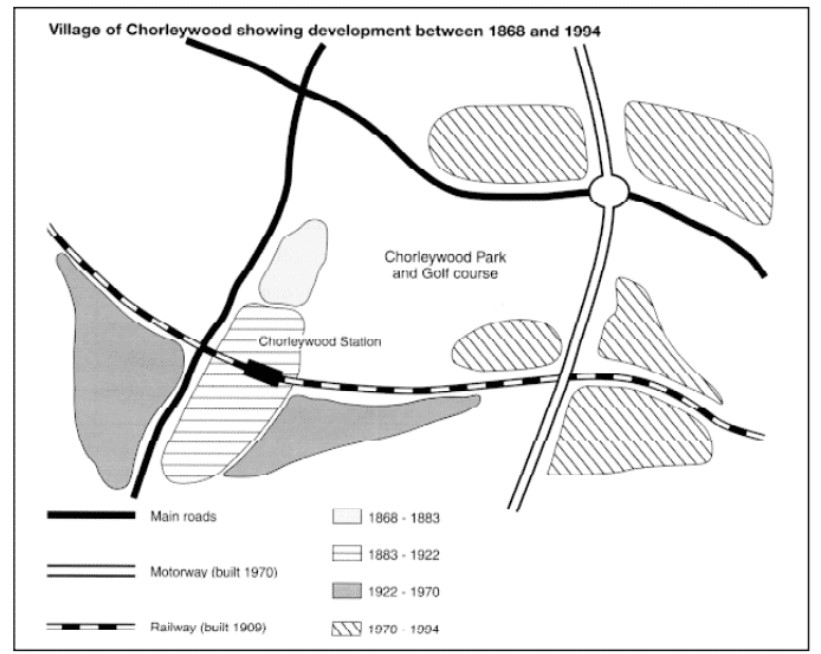 A village named Chorleywood, which is located near London, reported an unwaveringly rise in its population since the middle of the 19th century. The provided map illustrates the evolution which took place in the village, from the year 1868 to the year 1994.
Overall, it is evident from the map that motorway and railway were built and much other progress was done in the given period of time.
A glance at the map given reveals that the railway track was constructed in 1909, and the Chorleywood station developed near the cross-section of the main road and the railway track between 1863 and 1922. The motorway was built from north to south at the east side of the village, and the area around it expanded in 1970-1994.
In the centre of the village, Chorleywood Park and Golf course is situated, and some land on the west of it revolutionized during 1868 and 1883. In the year 1922 to 1970, the large landscapes at the southwest corner of the village build-out.
Follow Us Our Facebook Page For Updates related to IELTS material