Some people feel that entertainers (eg. filmstars, pop musicians or sports stars) are paid too much money. Do you agree or Disagree? Which other types of jobs should be highly paid?
Musicians, sportsmen are some of the most rewarding professions is an irrefutable fact. A vast majority are convinced that lavish spending on them is deplorable. However, I am of the opinion that such professionals should be encouraged by bestowing money on them.
Firstly, sportspersons largely guarantee a good return on investment for the nation in general. The laurels that they bring to the country, manage to turn the spotlight on a country's ability to nurture such talent. Case in point being, France invested heavily, by including migrant kids in their football team was rewarded by a glorious triumph in the football World cup 2018.
Secondly, the economic benefits of such excellence at these sporting events cannot be ignored. Cricketers belonging to teams which have lifted the cricket World Cups are the toast of the town with marketing deals ranging in millions. Today, 28-year-old Virat Kohli is the highest paid cricketer raking in ostentatious millions after splendid batting mastery in the cricket World Cup 2017.
Taking a minute, from basking in the achievements of celluloid stalwarts, musical stars, and sportsmen. it's important not to ignore the hands that sculpt them. Teaching is a vocation which I believe should be encouraged with a good pay. Several educators in several schools are burdened with teaching and administrative tasks like reporting pupil's progress for peanuts, which consequently wears down their motivation to teach. This may result in fewer incumbents opting for this noble profession. Therefore, they ought to be egged on with a substantial pay increase in lieu of the yeoman service rendered to the society.
In summary, while it may appear as a criminal waste of money to splurge on those who choose the off beaten track like sports or art, the intangible benefits of the same cannot be overlooked. The gurus who imbibe the spirit of self-belief in these dreamers should also be applauded with excellent remuneration.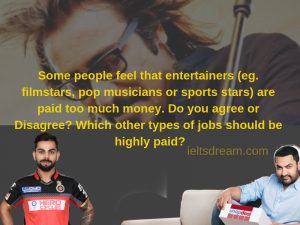 Diwali status 2018
Some people feel that entertainers are paid too much money Do you agree
Some people feel that entertainers are paid too much money Do you agree
Some people feel that entertainers are paid too much money Do you agree
Some people feel that entertainers are paid too much money Do you agree