Some people think that museums should be enjoyable places to attract and entertain young people, while others think the purpose of museums should be to educate, not entertain. Discuss both the sides and give your own opinion.
Some people think that museums should be enjoyable places to attract It is considered by some that galleries are the delightful places for youngsters while others argue that the objective of visiting museums is to educate them and are not the means of captivating them. In my discourse ahead, I will discuss both the views and share my opinion in the conclusion.
in present times, museums are increasing day by day. In India, there are several types of galleries like they have now become an entertainment source for youngsters and pupils. Moreover, they have become a tourist place attraction too, consequently, people from different countries visit and explore exhibitions. They have now become a wonderful spot to be visited. For instance, In Hindustan times, news has been shown that currently there are 45 museums and more are expected in near future.
More importantly, via museums, one can know about their ancient times. So the same should be used for education purposes only. These galleries have now become a source of sharing knowledge. One can easily know about their past times. There are a lot of students who are not well informed about past railways systems, which used to run in the past, hence with the help of the railway museum, they are now familiar. To exemplify–Most of the schools organize trips for children mainly to museums so that they can gather knowledge.
To conclude, though both of the views hold true in own their own merits I am of the opinion that museum should be used for spreading information rather than making them a source of entertainment.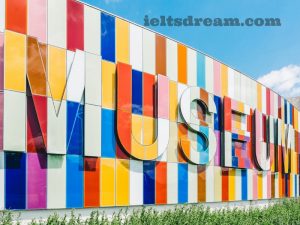 Some people think that should be enjoyable places to attract and entertain young people,
Some people think that should be enjoyable places to attract and entertain young people,