Sample 1 ( sheik chili tomb in Kurukshetra )
well, India is a diverse country that has a great history. I belong to the holy city of Kurukshetra which is known for its long historical background and history. there are so many ancient temples and old buildings in Kurukshetra which is quite popular all over the world for its history. however, here I would like to talk about "sheik chili tomb", a wonderful piece of Mughal architect.it was built in the memory of Abd ur Rahim, the famous Mughal poet.
This place is a great tourist attraction as a number of people come to visit this place from different parts of the country. It is a huge building having different sections. The tube is situated right in the middle of it. On the north of the Tomb, there is a mosque called 'pather masjid'. People From the Muslim community get assembled to perform Namaz every Friday.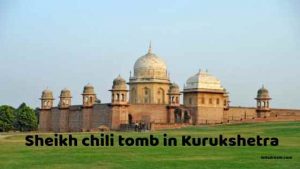 Apart from that, there is also a museum in which tourists find a rare collection of antiques related to the Mughal period. In front of the tomb, there is a park which is now famous as Harshvardhan Park where people can sit and relax. It is full of greenery and looks beautiful. It certainly adds to the beauty of this place. Nowadays, this beautiful  Park uses for pre-wedding or post-wedding shoots.
There is also a library which has a rare collection of books and articles. These books give us great knowledge about history, culture, and lifestyle of Mughal time. To be honest this section is quite knowledgeable.
On the walls of the tomb, there are 'Aayten' from the holy 'Quran' which gives it a spiritual touch. I visit this place quite often, to be honest as it is a great place to hang out. I go there is especially in the weekends, some time with my friends and some time with my family. In fact, this building is quite popular among tourists because it has beautifully designed by architects as well as has a great history.
All in all, it is a beautiful place and treats to watch.
Sample 2 ( Red Fort in Delhi)
Well, India is a diverse country. There are a number of historical places available such as Taj Mahal, Qutub Minar, Charminar, India Gate and so on. Here I would like to talk about a special historical building named red Fort. I describe it briefly. Red Fort is located in Delhi. It is a great tourist attraction which attracts many people not only from India but also from other parts of the entire world.
About 2 years ago, I visited there with my friends. At that time, we went there on 15th August which is Independence Day of India. So many people came there on the time due to ceremonies of independence Day. If I talk about the history of this place, then, this building was built by the Mughal Empire named Shah Jahan. He constructed it when he shifted India's capital from Agra to Delhi. He lived there with his family.
In addition, on that day,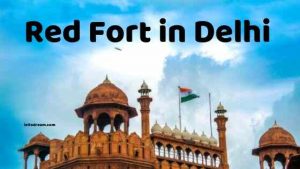 prime Minister of India named Narendra Modi waved the national flag on the Red Fort. After it, we saw the parade of the Indian army. All the security forces  involved in this parade. We enjoyed it a lot. Apart from it, some children gave dance performance there in order to celebrate Independence Day. I felt highly related after seeing it. Also, I clicked some photographs there.
Moreover, on Independence Day of India, an exhibition organizes every year by the Indian government. In this exhibition, many people come there in order to sell their handicrafts. They set up their stalls there and people enjoy this exhibition. When I went there on Independence Day, I also got a chance to see this exhibition.
It mesmerized me the most. Also, I bought some souvenirs from there at a reasonable price such as a wall clock, key rings and so on. All in all, it was a treat to watch for me. If I get a chance to go there again, then I would like to do it definitely.
Follow Up Questions–
Why people like to visit historical places?
Well, according to my point of view, there are some reasons for it. Firstly, people visit historical places to enjoy their free time. They can get a break from their mundane routine through it. Secondly, they wants to know the history behind historical buildings. Last but not the least, some persons go there for photography or shooting videos. After doing this, they post it on social networking sites.
Is it important to protect historical buildings?
Yes of course it is very important to preserve historical places because these tell us about our ancestors. It helps us to know about the interests, architectural designs, lifestyle and so on. It works as a linker between us and our history.
What are famous historical places in India?
In India, hundreds of historical places are available. Some of them are very popular such as Red Ford, Kutub Minaar, Chaar Minaar, Hawa Mahal, Taj Mahal, Sheikh Chili Tomb, and so on. People like to visit these places to rejuvenate the fatigued mind.
How have buildings are changed in last decade?
Well, in last ten years, people like to construct vertical shaped buildings but in the past time, they built buildings in horizontal way. This happens due to scarce of land. Actually, in the present scenario, population has been increasing day by day and it needs more land to live. So, in the most of cities, vertical shaped buildings  are becoming famous.