The Graph below shows the percentage of Australian export to 4 countries from 1990 to 2012. summarise the information by selecting and reporting the main features, and make comparisons where relevant.
---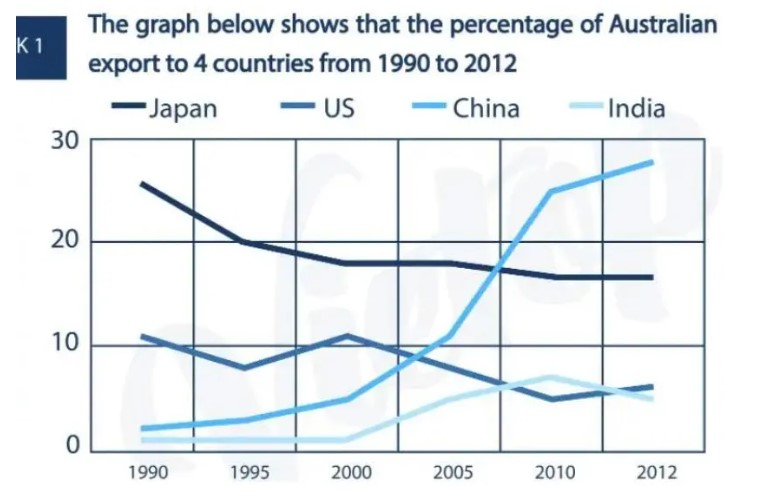 The data is provided in the form of a line graph, which depicts the information about the proportion of Australia's export to the various countries like Japan, The U.S, China and India between 1990 and 2012. The data has been calibrated in percentage.
Overall, it can be seen from the chart that Japan and The U.S witnessed a downward trend in the ending years, whereas China had seen a major increment in the number of export from 2005 to 2012.
Looking at the graph in more detail, Japan was seen less than a third percentage in the starting year, which had declined slightly by around 6% in the following five years. Then, between 2000 and 2012, the number of imported things fluctuated considerably, from about 80% to less than a fifth. The Australian export to The U.S was observed at 10% in 1990, which decreased slowly from about minority numbers then started to fluctuate from 11% to 7% between 2000 and 2012.
There had been a steady increase in the percentage of Australian export to China from about 2% to 5% from 1990 to 2000, which picked at a quarter number (25%) in 2010 and 2012. However, India's export experienced a stable till 2000 from about 1%, which escalated dramatically from 2005 to 2010, it accounted for 7%.
Follow Us Our Facebook Page For Updates related to IELTS material