The graph shows Underground Station Passenger Numbers in London. Summarise the information by selecting and reporting the main features, and make comparisons where relevant.
---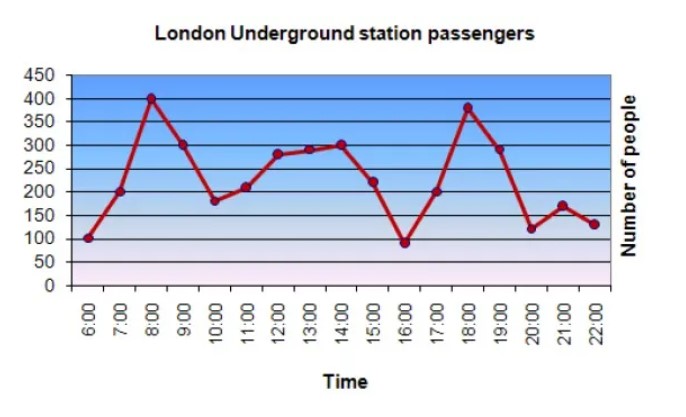 The given line graph shows the data of travellers who travel from the underground station in London. The number of passengers is given from 6.00 am to 10.00 pm.
Overall, it can be observed that the station is highly crowded in the morning and evening while the number of people decreases sharply at night.
Initially, the station is used by 100 people at sharp 6 in the morning and then this number increases significantly to the peak of 400 passengers at 8.00 o clock. At 10.00 am, the number drops quickly to less than 200 people. Between 11.00 am and 3.00 pm the number shows a minor increase of just under 250 people. Only 100 people remain at the station at 4.00 pm.
The number of passengers rockets to 380 at 6.00 pm. By passing hours, travellers' data show a sharp decrease and only around 100 people are at the station from 8.00 to 10.00 at night, which is similar to starting the day.
Follow Us Our Facebook Page For Updates related to IELTS material