The pie chart gave information on UAE government spending in 2000. The total budget was AED 315 billion. Summarize the information by selecting and reporting the main features, and make comparisons where relevant. Write at least 150 words.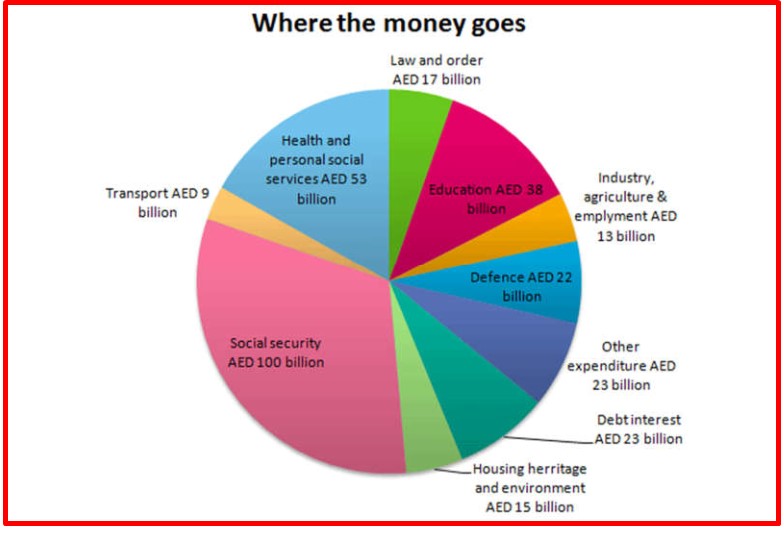 Sample Answer of The Pie Chart Gives Information on Uae Government Spending in 2000
The pie chart illustrates the expenditure of the UAE government in the year 2000 for 10 different sectors with a complete budget of AED 315 billion.
Overall,  It is observed that the UAE government spends the highest amount of money on the development of social securities and,  health and personal social services sector. Whereas,  least on the transportation sector.
Generally, The government of UAE  has spent one-fourth of part of its budget on the social security sector, which is AED 100 billion and AED 53 billion, on the development of the health and personal social service sector, respectively. At the same time, the least amount of budget was allotted to the transportation sector with AED 9 billion.
On the contrary,  two equal amounts (AED 23 billion)  of the budget was used for the other expenditure and debt interest sector.  Whereas AED 22 billion was invented for the development of the education and defence sector. The UAE government utilised UAE 17 billion and uae 15 billion for upgrading law and order and housing heritage and environment sectors, respectively. The remaining AED 13 BILLION of the budget was spent on industry, agriculture and the employment sector in 2000.
Follow Us Our Facebook Page For Updates related to IELTS material.
Also Read The chart below shows the proportions of adults in Canada who own one car, two cars, more than two cars, or who do not own a car.