The pie chart shows the amount of money that a children's charity located in the USA spent and received in one year, 2016. Summarize the information by selecting and reporting the main features and making comparisons where relevant.
---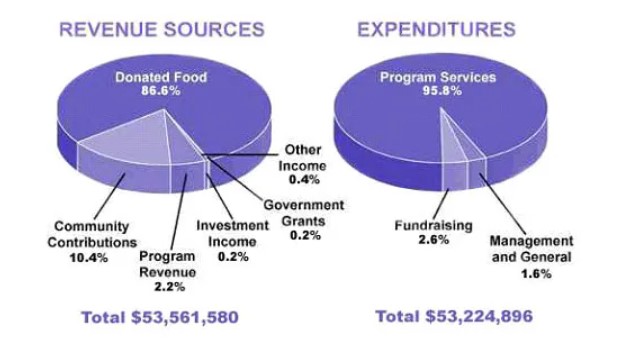 The pie charts depict the amount of money received and spent by the children's charity situated in the USA in the year 2016.
It is clear that the children's charity spent a huge proportion of money for the sake of programming services, and the charity received most of the income from the food donation.
In 2016, the charity's highest revenue source was donated food which accounts for about 86.6%, and the second-highest income source was from community contributions which are about 10.4%. Apart from that, program revenue accounts for 2.2%, and income from other sources is 0.4%, whereas revenue from government grants and investment is exactly half when compared with the income from other sources.
It is noticeable that, in 2016, the charity spent 95.8%of its income on service programming and the remaining on management and general and fundraising, which accounts for 1.6% and 2.6%, respectively.
Follow Us Our Facebook Page For Updates related to IELTS material