Write a report describing the Fertility Rate ( births per woman) in gulf countries between 1990 to 2000 in the graph below. You should write at least 150 words. You should spend about 20 minutes on this task.
---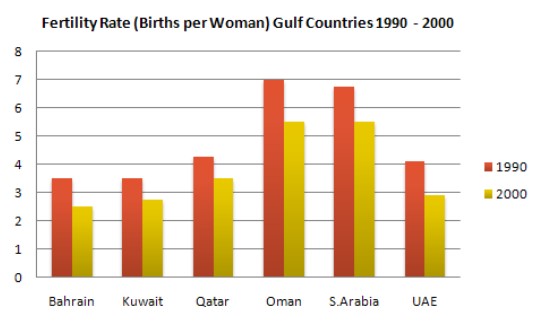 The Bar chart illustrates the comparison of fertility rate in the women of six Gulf Countries between the years 1990 and 2000.
As a general overview, it is observed that the fertility rate has been decreased nearly by one number in the decade. Further, country-wise analysis shows that Oman and Saudi Arabia possess higher rates among the other four countries.
Now, if we look at each country's data, the women of Bahrain had a fertility rate between 3 and 4 in the year 1990, whereas it decreased to less than 3 in the year 2020. Similarly, Kuwait had an indicator neat 3.5 that decreased to a slighter less than 3. Qatar had a rate above four, and that decreased to nearly 3.5. Oman, having the highest fertility rate among all Gulf Countries with a score of 7, sees most dip in the rate for 1.5 and in 2020 declined to 5.5. Following a similar trend, S. Arabia, with the second most high fertility rates, had a decline from a near under 7 to in between 5 and 6. The UAE also showed a similar trend as in 1990 it had a fertility rate just above the four that decreased to a little less to 3.
Follow Us Our Facebook Page For Updates related to IELTS material