The diagram below shows the manufacturing process for making sugar from sugar cane. Summarise the information by selecting and reporting the main features, and make comparisons where relevant.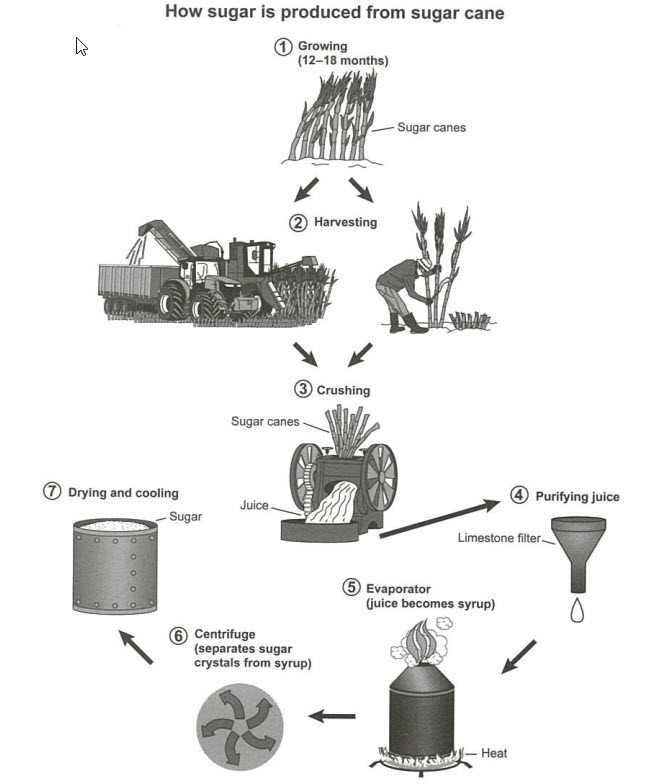 Sample Answer of The Manufacturing Process for Making Sugar From Sugar Cane
The diagram represents the production of sugar from sugarcane.
Overall, the manufacture of sugar required seven steps, and every step in this process is vital. Even if a single step is missed, then the whole process is hampered.
In the first stage of producing sugar, sugarcane is grown for about one to one and half years when the growth period is completed and the farmer harvests it. The process continues with the crushing of sugarcane which makes the juice of it.
The juice is sent in a limestone filter to purify in the next stage before sending it to the evaporator, where the juice is converted into syrup by heating. Subsequently, the syrup is sent in a centrifuge where sugar crystals are separated from the syrup. The manufacturing process of sugar ends with the final step, which involves drying and cooling of the separated crystals and results in the final product, which is Sugar.
Follow Us Our Facebook Page For Updates related to IELTS material.
Also, Read The bar chart below gives information about vehicle ownership in China.