The map below shows a civic centre between the present and its plan. Summarize the information by selecting and reporting the main features, and make comparisons where relevant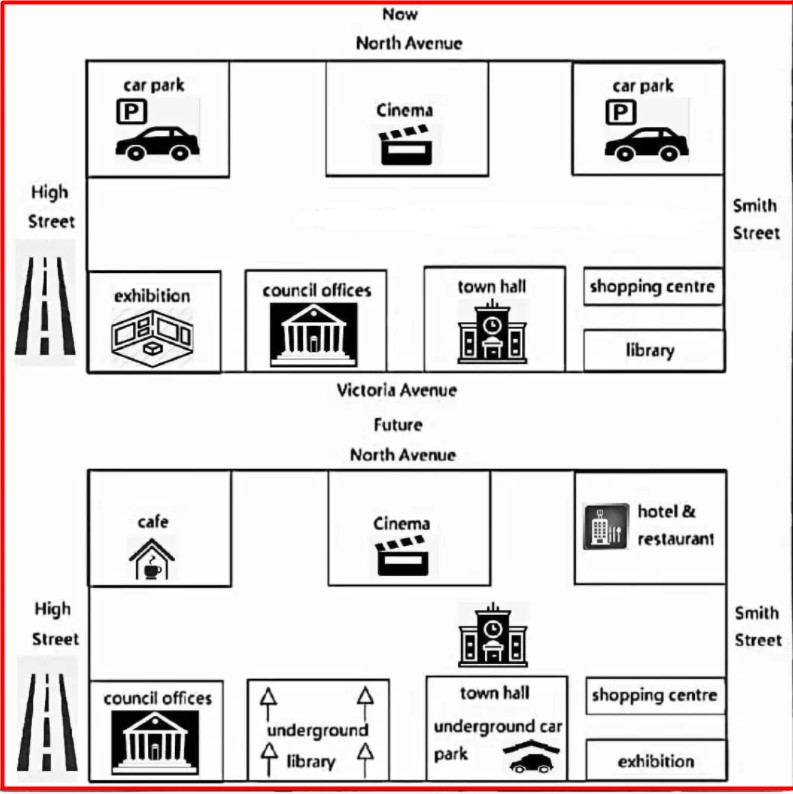 Sample answer of The Map Below Shows a Civic Centre Between the Present and Its Future Plan.
The map gives the information regarding us civic centre between now and upcoming time period.
In case of the present time, not Avenue, the car park is on the Northwest corner, and another parking for a car on the right side as well as between both parking is cinema. Moreover, on the left side is high Street and on the other side is Smith Street is located. In Victoria Avenue, the shopping centre and the library are situated on the North East side near the town hall and council office and the exhibition on the left side.
However, in the future North Avenue will be many changes, both the car park will replace by the hotel and restaurant and cafe but, cinema will be in the same place. It is predicted that high Street and Smith Street will remain on the same side. In the Upcoming time, the library will be replaced with an exhibition which will be near to the shopping centre. At the same time, the library will be underground. Town Hall will not change its place, but the carpark will be underground near the town hall. Last but not least, the council office will be returned with the exhibition on the southwest corner.
Overall, there are many changes compared to now in the future as well as cafe and hotel and restaurant will be built.
Follow Us Our Facebook Page For Updates related to IELTS material.
Also Read The chart below shows the proportions of adults in Canada who own one car, two cars, more than two cars or do not own a car.