Nowadays we are seeing more and more exhibitions and sculptures appearing in public places. It is wrong that governments are funding artist projects when there are more important things we could be doing with tax payer's money. To what extent do you agree or disagree with this opinion?
Give reasons for your answer and include any relevant examples from your own knowledge and experience.
Large amounts of taxes are collected by the government every year, and how to spend that money is always a focus. Many people insist that investment in artist projects, such as painting and sculpture, is not worthwhile. I am rather doubtful about this opinion.
As social competition gets increasingly fierce, definitely, art can serve as a psychological comfort to relax depressed modern people. Numerous medical surveys have certified that more than one-third of Urban people suffer from mental stress to some degree. Consequently, after a day's demanding work, in art galleries or city parks, people can have access to fantastic creations of sculptures and exhibitions of masters in contemporary society, and without doubt, they will be more refreshed and more motivated to meet future various challenges in both work and life.
Besides psychological relaxation, artistic projects help to foster social harmony. In appreciation of innovative arts, people can purify their mentality and improve themselves. It is a well-known fact that paintings and sculptures are the crystallization of social civilization and of course, contacting that wisdom can instill in people the manners, which is beneficial to handling interpersonal relationships. If people are politeness-conscious, it is possible to foster a harmonious society.
On the other hand, taking into account the professional knowledge needed for understanding abstract art, government and relevant academic organizations should popularize and strengthen the promotion of essential knowledge and skills in order to enhance the aesthetic level of the masses. Only in this way, can those artistic projects come into play.
In conclusion, physical comforts are necessary for people, but spiritual civilization is more significant and urgent for harmonious relationships and sustainable development of the whole society.
Some people think that the government should decide the subject for students to study at university. Others believe that students should be allowed to apply for the subject they prefer. Discuss both views and give your opinion.
Countries around the world will be facing significant challenges relating not only to the environment but population and education as well. what problems will your country face in the next ten years? how can these problems be overcome? give reasons for your answer and include any relevant examples from your own knowledge or experience.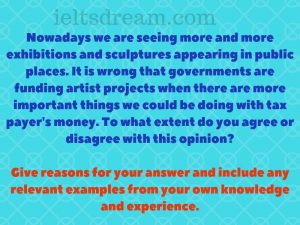 Nowadays we are seeing more and more exhibitions and sculptures Nowadays we are seeing more and more exhibitions and sculptures Nowadays we are seeing more and more exhibitions and sculptures Nowadays we are seeing more and more exhibitions and sculptures