Sample 1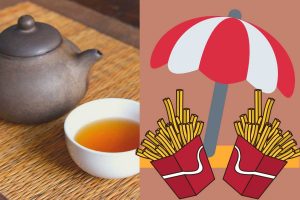 Well, Rainfall decreases the temperature and makes the weather more pleasant. Also, it gives me a chance to stay at home and I enjoy with my family during the rain. But here I would like to talk about that time when I went outside and rain started. I explain it briefly.
Once upon a time, I was coming back to my home after attending college. I was traveled by bike. At that time, suddenly the sky had filled with black clouds and the sunlight converted into darkness. The Sun was covered with clouds. I realized that the rain will come soon. but before the rain, I wanted to go to my home as soon as possible.
Unfortunately, I faced a challenge to ride my bike on the road. It was downpour rain. So, I stopped my bike near a tea corner. I Parked my bike and sit on a bench which was already available there. Besides me, two more ladies stood there due to heavy rain. Along with the rain started, the chilled wind was blowing and I started shivering. Then, I had a cup of tea from there and drunk it. It made my body Warm.
We all were waiting there until the rain was not stopped, We stood there beneath a shelter of a tea stall. so, after 20 minutes, the rain stopped. I again started riding my bike to reach my home
Besides, I came back to my home. Interestingly, when I was at the entrance of my home, drizzling was started again. I entered my home and felt better. Soon, I changed my wet clothes. Apart from it, I ate snacks which my mother cooked for me on that day. I also had a cup of tea with snacks. Then I thanked my mom for a mouth-watering meal in pleasant weather
Overall, that day was difficult for me because it stopped my works but I loved and enjoyed it so much.
Sample 2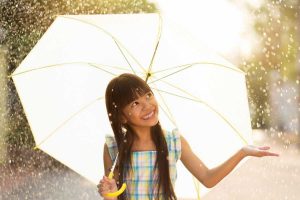 Well, I belong to the Northern part of India in which we enjoy only monsoon season in the month of June to August.whenever, rain comes, I enjoyed it fullest because the whole environment turned pleasant and cool after it. In fact, there are so many situations in my life when I was outside of my home and enjoy the rain. Please allow me to explain it briefly.
Last year, in the month of July, the temperature was too hot in Punjab state. So, I was planning to go Himachal Pradesh because, in the hill, station temperature remains cool as compared to plain areas. Finally, I choose a destination and I went to Manali with my husband by car. After reaching there, which stayed at Hotel Avenue and I felt elated because the weather was pleasant over there.
In the evening, we went to Mall Road. Then suddenly, the clouds turned out black as well as I heard a loud sound of lighting. However, the whole environment and view look very fascinating. After 10 minutes, rainfall had started heavily. Luckily, we found a cafe near us. And we went inside it to escape ourselves to be wet. we Ordered some hot snacks and beverages in order to pass our time In Cafe. We enjoyed our snacks to watch the beautiful outside view from inside the cafe.
After 30 minutes, the rain has stopped and so we reached our hotel room back. Because of heavy rainfall, mall road and the other area were covered with water. As a passage of time, the temperature of Manali had gone lower and lower. Then suddenly around 9 o'clock, I saw some drops of rain turned into snow. At night, I enjoyed snowfall as well. Overall, this was my first experience when I saw snowfall so I enjoyed it fullest. Hence, that was a situation when I was outside and enjoyed rain a lot.
Follow Up Questions-
Do you like rainy days?
Yes, I like it very much because It helps me to stay at home and spend time with my mother. I can enjoy pleasant weather as well as fried snacks during rain. Especially I like drizzling than downpour rain.
What is the name of that place where people enjoy regular rain?
Well, I know about a place where people can enjoy the rain every day. Its name is Chirapoonji and it is located in the northwest part of India. Many persons like to visit this place in order to enjoy the rain because they enjoy the rain just during the moonsoon season.
Related to this
The climograph below shows average monthly temperatures and rainfall in the city of Kolkata.