Sample 1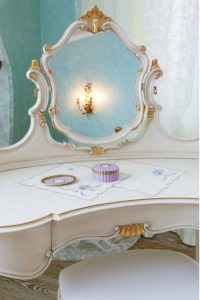 Well, I live in a beautiful house with my family which has decorated amazingly with beautiful interior furniture and exterior paints. By the grace of God, I have traditional or modern furniture at my home such as dining table, sofa set, chairs, study table, TV cabinet, and so on. However, here I would like to talk about my dressing table which is my favorite piece of furniture.
It is a hand Crave designer dressing table with a big mirror. This was made by mango wood and beautifully craving of peacock designs. It has 6 drawers that are used for various purposes such as makeup kit, for my hair accessories, for bangle collections and so on. It is beautifully polished with Skyblue color which matches perfectly with my room interior paint.
I purchased it from a well-renewed showroom "seven Star" about 3 years ago. At that time, I found it at a reasonable price of 17000 Indian rupees. According to its price, the look of it is so attractive. It enhances the beauty of my bedroom.
From the day of purchasing until now, I use it on my regular basis. Firstly, whenever I have to go somewhere, I used it for doing my makeup. Apart from it, due to the big storage space, I do not have to worry about placing my necessary things. Moreover, I used it to place my makeup jewelry such as bangles, bracelets, chains and so on. Last but not least, it is very useful for all other family members because they all use it for dressing up.
There are a few reasons why I like it. First of all, the color combination of my wall paint and dressing table goes perfectly with each other. Secondly, I am emotionally attached to this furniture because my husband purchased it for me. Overall when I saw in the mirror, I feel more confident. So that's why I like this specific piece of furniture.
Sample 2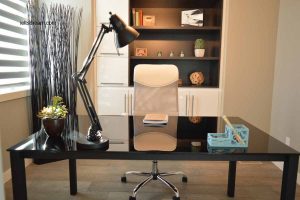 My home is full of furniture including chairs, tables, double bed, dining table and so on. But here I would like to talk about a piece of furniture which is a study table. I use it for many purposes such as for study, laptop and so on. here I explain it briefly. Interestingly, I have a big study table which is made of wood. Actually, my maternal uncle gifted it to me on my 18th birthday. There are three small Cupboards in it. I store my books and other stationery stuff in its first cupboard. In the second part, I have Stored my study notes about different subjects that I keep safe from mammals. To add to it, I place my laptop in it by putting it in a laptop bag.
Apart from it, it's one shelve is larger where I keep my books and read it. Along with this, I can also set up my laptop on it and prepare my project work. Then it has another shelve which is on the top of the study table. I decorated it with antiques. Also, there is a lamp on my study table which I use at night to read books.
I like this furniture very much because of some reasons behind it. Firstly, its brownish color shines because it's Sun mica is very beautiful. Secondly, when I use this table, it helps me sit in the correct posture and escapes me from tiredness. Thirdly, a lamp on it helps me to read or write something in a proper light without any problem. Last but not least, my siblings also use it according to their needs. Overall, it is a perfect piece of furniture that adds beauty to my home. It also attracts friends and relatives.
Follow Up Questions-
 Who selects furniture in your house?
Well, in my home, my parents select furniture. For instance, my father selects furniture for living room, study room, and bedrooms. But my mother chooses furniture for the kitchen. I and my siblings follow our parents' choice and opinion in the selection of furniture.
What is the importance of furniture for home and office?
Furniture is an essential part of the home as well as an office. It completes the structure of a building. We can have comfort, convenience, storage, and optimum usage of space and electricity with the help of furniture.
How different is today's furniture compared to the past?
Well, according to my point of view,  today's furniture is a combination of utility, style, and luxury. We can have trendy shapes, new colors, and different material such as steel, plywood, aluminum, and plastic in the present time. But in the past time, people like to purchase only wooden furniture.
Should we use the same type of furniture at home and at the office?
No, I don't think so. We should use a formal type of furniture at the office like glass cabins, chairs, and tables. But at home, we can have cupboards, sofa, double bed, Almira, and so on.