Some people believe that students who want to go to university after graduation from high school should have a year off to get a job top to obtain work experience or travel to widen their vision. What are the advantages and disadvantages of it and what is your opinion?
Give a reason for your answer and include any relevant examples from your own knowledge and experience.
Knowledge is power, wrote Francis Bacon long ago. Inevitably, for the sake of acquiring more valuable expertise, the majority of students are eager to be enrolled in a college as soon as possible, while others are determined to have a time off to work or travel before furthering their education.
There are definitely numerous benefits associated with a break before going to college. As the saying goes, "all work and no play makes Jack a dull boy." Fierce academic competition has rendered poor students rather depressed and melancholy, and it is no exaggeration to say that the majority of college students suffer from more or less psychological illness. Consequently, having time to enjoy life for a while is highly valuable. furthermore, taking some practical jobs can help students accumulate precious working experience, and traveling to diverse places can greatly enlarge students horizons, which will surely be beneficial to their future education and adult life.
The choice to work or travel, of course, potential threats. As the competition in the job market grows cut-throat, finishing higher education in time means exactly more edge over other competitors in job-hunting. After all, the amount of relevant occupations is far from being infinite, so chances are that they will find it tougher to secure an ideal job after postponing the acquisition of academic qualifications. In addition to the manager percentage of job resources, some students are not so motivated to live on campus that their study efficiency is really low. As we know, compared with working or traveling, learning differs in the aspects that it requires sufficient patience and somewhat stable mentality. If children get accustomed to the environment of job or travel, how can they concentrate on their studies?
Despite the fact that having a time break is advantageous to some degree, its dangers are more alarming. Fewer chances of succeeding in obtaining satisfactory jobs and the inability to be productive in knowledge acquisition justify the suggestion that students should be more cautious about delaying higher education, and learning knowledge as much as possible is more urgent for students.
In conclusion, while some students may profit from taking a gap year, I am convinced that for the majority of students a year's break is detrimental to both their educational progress and their final careers.
Some people hold that students should study by themselves instead of in a group. What is your opinion? Give reasons for your answer and include any relevant examples from your own knowledge and experience.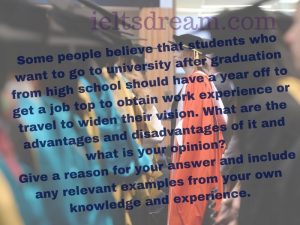 Some people believe that students who want to go to university after Some people believe that students who want to go to university after Some people believe that students who want to go to university after