The chart below shows the internet users (in millions) in different countries in the Middle East as of June 2019. Summarise the information by selecting and reporting the main features, and make comparisons where relevant.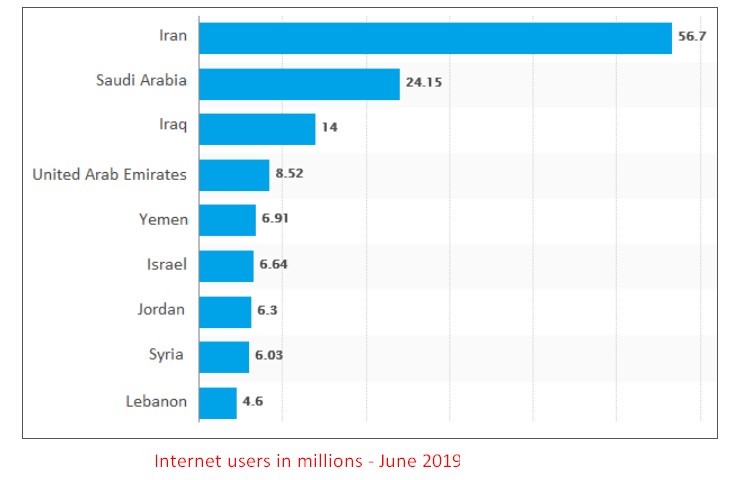 Sample Answer of The Chart below Shows the Internet Users (in Millions) in Different Countries
The provided bar graph illustrates nationwide online internet users in the middle east for 2019. The data is measured in millions for given countries.
It is conspicuous from the given graph that the highest internet users were from Iran. On the other hand, Lebanon has fewer people who are interested in online internet culture. It is readily apparent that Yemen, Israel, Jordan, and Syria have almost the same amount of persons activated for internet use.
Explicitly, Saudi Arabia has almost below the half-percentage (43%) compared to Iran addicted to surfing the internet in 2019. Additionally, Iran has practically one-fourth of Iran's online activities, measured by 14 million Iraqis interested in the internet.
On further scrutiny, UAE has declined almost seventh timeless than Iran on internet use, which stands on the fourth spot with 8.52 million people for a given year. Moreover, four sub-continents (Yemen, Israel, Jordan & Syria) have moderate users between 6 to 7 million. Last but not the list. A total of 4.6 million masses utilize the internet in Lebanon.
Follow Us Our Facebook Page For Updates related to IELTS material
Also, Read Some Claim that Studying Abroad Has Great Benefits