The Diagrams below show changes in a cinema from 1980 until now, summarize the information by selecting and reporting the main features, and make comparisons where relevant.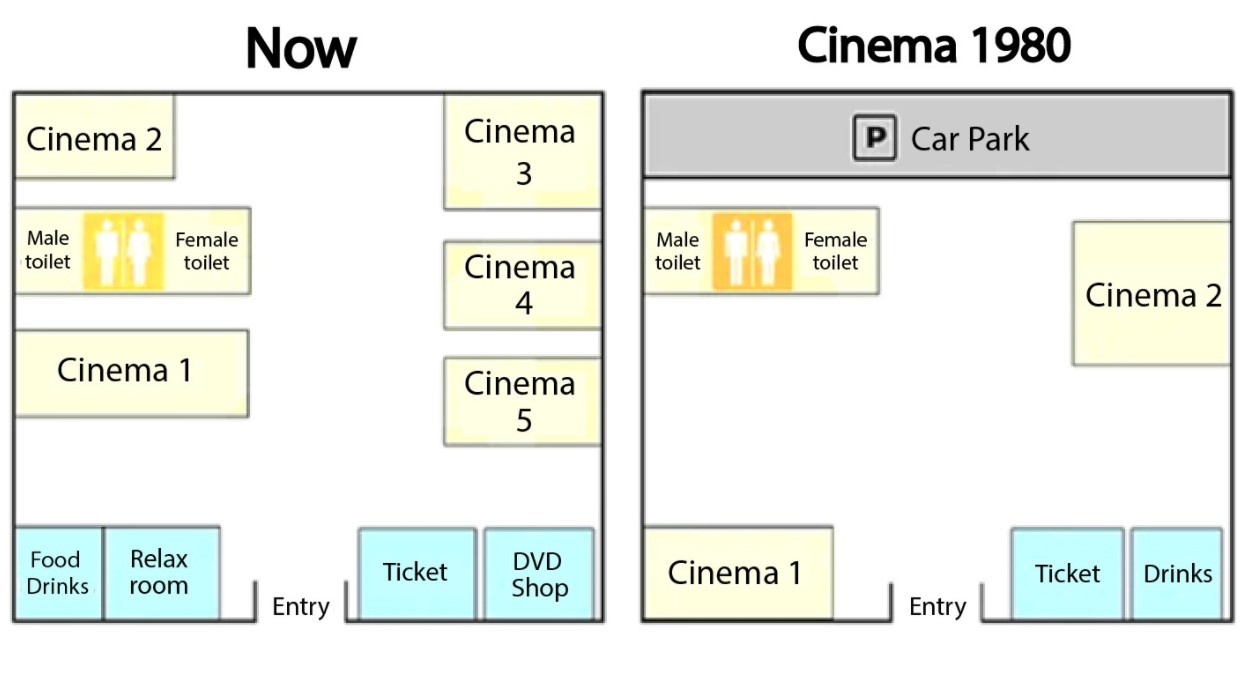 Sample answer of The Diagrams Below Show Changes in a Cinema From 1980 Until Now
The diagram illustrates the significant changes that have been made in the present cinema when comparing to 1980.
Overall, the facilities have been far better than the cinema; remarkably the car park has been removed from the cinema compound. The number of cinemas increased. In addition to that, the entire complex was utilised wisely.
In 1980, the car park was situated in the northern part of the complex, then one cinema in the Eastern part and the other in the southwest corner. The ticket counter was just beside the right-hand side of the main entrance neighbouring with drinks shop. Moreover, the men and women toilets were built near the car park.
In contrast, at present, the car park zone completely removed and added cinemas 2 and 3 in Northside. The restrooms were not removed from the old place; however, besides the toilets, there is an additional cinema 1 opposite to that cinema 5. The old cinema existing in the same zone, which is cinema 4.Nonetheless, the drinks are replaced to DVD shop then the ticket counter in the same place. In addition to that relaxing room and food and drinks are constructed in the southwest lower corner.
Follow Us Our Facebook Page For Updates related to IELTS material.
Also, Read You Recently Discovered that There Are Plans to Construct an Airport