The graph below gives information about the number of Catholics residing in different nations, during 2010-2013. Summarise the information by selecting and reporting the main features, and make comparisons where relevant.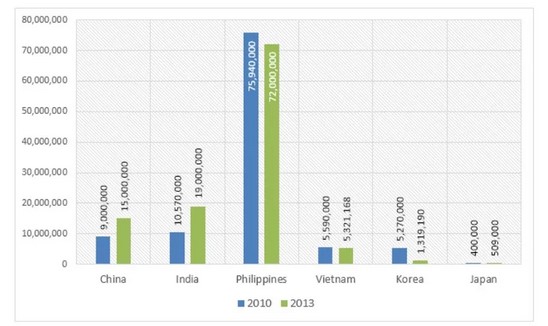 The given graph illustrates data regarding the number of Catholic people who lived in China, India, the Philippines, Vietnam, Korea and Japan in 2010 and 2013.
To begin with, the number of people who were catholic and resided in the Philippines in 2010 and 2013 stood at 75,940,000 and 72,000,000, respectively. Furthermore, China and Indian had experienced significant changes in the catholic population in the years 2010 and 2013. The figure showed that the most populated country China had 9,000,000 catholic residents while India had 10,570,000 in 2010. After two years, in 2013, both countries had more catholic dwellers in China (15,000,000) and India ( 19,000,000).
Turning to less catholic countries, in 2010, the number of catholic people in Korea was 5,270,000, and following two years, the population had decreased to 1,319,190 as we can see that there were minimal catholic population changes in Vietnam from 5,590,000 to 5,321,168 over the three years. On the other hand, Catholic people had not considered residing in Japan more; thus, Japan had the lowest number of catholic individuals in 2010 and 2013, accounting for 400,000 and 509,000.
All in all, Vietnam was the most considered country that catholic people like to be lived in. Meanwhile, Japan was the lowest opt country by Catholics with a view to settling.
Follow Us Our Facebook Page For Updates related to IELTS material