Write a letter to your friend about a job offer that can be suitable for him/her and say:

–
Describe the job

what are the facilities available?

Why is this job suitable for him/her?
Dear Hitesh,
I hope you are doing well. The purpose of writing this letter is about the job offer for the post of Business Analyst in our company. This role required a great analytical and interpersonal skills to communicate with the top management of the end clients, where one need to suggest a business strategy to increase the bottom line of clients by inferring the sales and demographic database of the consumers. Thus, this is a job where you will get an exposure of dealing with a senior management of clients. Hence, after considering your communication and decision-making skills, I felt that you are the right candidate for this job as you already have a certain experience of dealing with people in the market, and this will help you to deal in a more strategic way.
Addition to this, You will have a plethora of benefits from the organization while working on this role. You will not only get 2 days of the week off but also you are allowed to work from home if you don't want to visit the office. Furthermore, you will get an opportunity to visit an onsite location to present your data with financial perks.
I hope you would like this profiles. Hence, I look forward for your reply in this regard.
Regards,
Vikas Kumar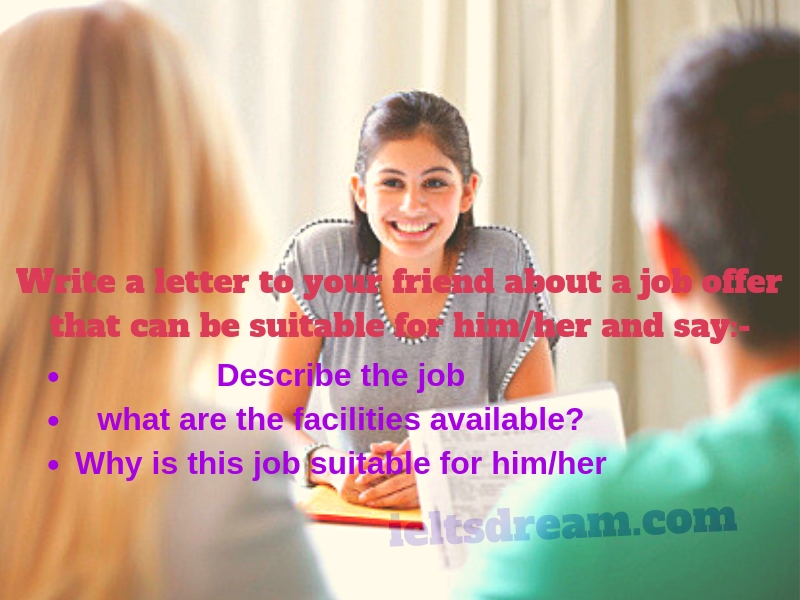 Write a letter to your friend about an offer that can be suitable for him/her Write a letter to your friend about a job offer that can be suitable for him/her Write a letter to your friend about an offer that can be suitable for him/
Describe a person you would like to study or work with