You recently started commuting to work by bicycle and discovered that there is a problem with bicycle parking near the building where you work. Write a letter to the building manager and say:
Explain the reason for using a bicycle to commute.

What problems have you encountered with parking?

What are your recommendations to solve them?
Dear Mr. Chirag,
I am writing this letter to draw your immediate attention towards the challenges I am facing to park my bicycle in our office building. Recently, I have started commuting to office by bicycle to create awareness about the benefits of it on health and an environment.
However, on my first day, I found the notice that the bicycle parking area is closed due to maintenance and there was no tentative date about when it will open. I checked with the security staff and I came to know that the signboard of repairs is there from the last 6 months and nobody is working over there. Apart from this, the allocated area is now used as a wasteland to put all the garbage.
Hence, I request you to provide a space for a bicycle in car parking area as it is no fully utilized or else you can request the concerned department to finish the pending work and clear the area at the earliest.
I am looking forward for your reply in this matter of concern.
Regards,
Vinay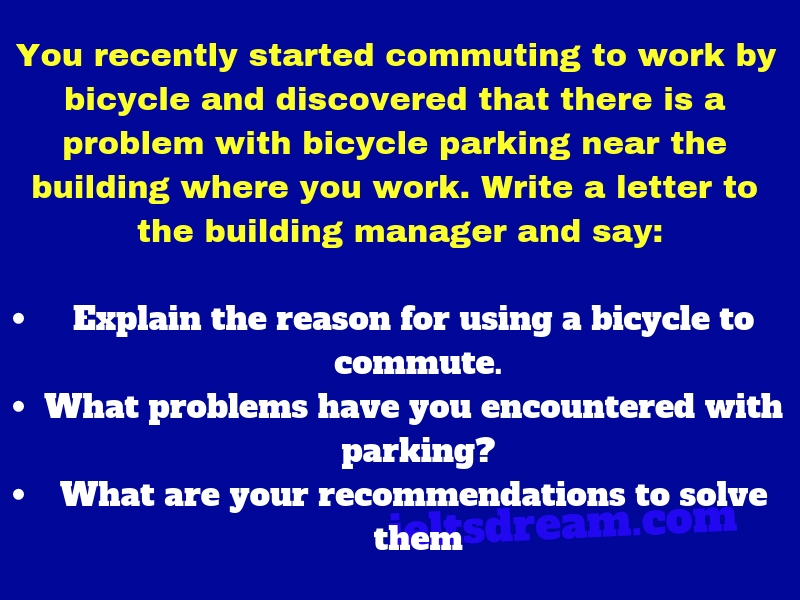 Write a letter to the building manager and say: 
Write a letter to the building manager and say: Write a letter to the building manager and Write a letter to write a letter to the building manager and s Write a letter to the building manager and see building manager and s Write a letter to the building manager and say:
Write a letter to your friend about a job offer that can be suitable for him/her and say
You recently started commuting You recently started commuting You recently started commuting discovered discovered