You have lost an item of value on a train Write a letter to the railway company. In your letter
Explain where and when you left it
Say what action n you would like the company to take
Dear Sir or Madam,
I am writing this letter to inform you that I have lost my personal laptop bag while travelling on a train for Mumbai to Pune. Please allow me to elaborate the complete situation to you.  
I was travelling in Indrayani express on 2nd November 18 from Mumbai to Pune. while travelling, I lost my laptop bag. It is a brown colored bag of high Design brand. I had purchased the bag last week only. In the bag, I have my company laptop and other necessary documents. This incident came to my notice when I got down from the train at Pune Station. Meanwhile, I have spoken to the police department at Pune station but they informed me to communicate with your department. Therefore, I request you to inquire if any of the passenger or your team members have returned the bag to lost and found department. if so, then please contact me on my Mobile number which is …………… I will personally come to your office to collect my bag.
I will wait for your prompt revert to this letter.
Yours faithfully,
Anuj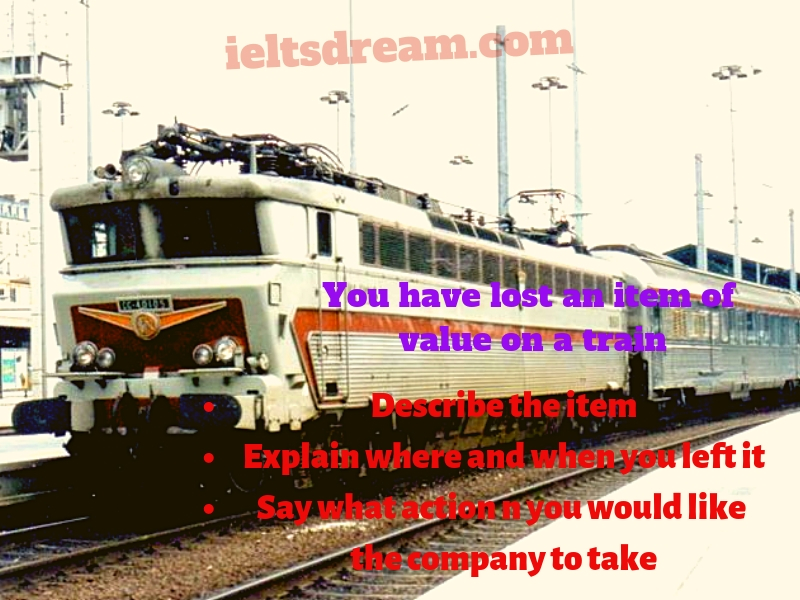 You have lost an item of value on a train Write a letter to the railway company. In your letter, you have lost an item of value on a train Write a letter to the railway company. In your letter, You have lost an item of value on a train Write a letter to the railway company. In your letter, you have lost an item of value on a train Write a letter to the railway company. In your letter