Computers are being used more and more in education. Some people say that this is a positive trend, while others argue that it is leading to negative consequences. Discuss both sides of this argument and then give your own opinion.
Usage of monitors is increasing day by day in studies. it is considered by some that it is most iterant while others think that it could lead to adverse impact. In my discourse ahead I will discuss both the sides and give my opinion in the conclusion.
At present times, computers play a vital role in a student's life. As it has many advantages like one can find instant synonyms, antonyms, getting details on complex topics, can surf several websites at one time, quick mathematical calculations and many more. Systems have made our life so easy and convenient. For instance, almost 75% of schools are opting for smart classes that would make topics so easier that children can understand and grasp the topic very rapidly. As earlier, Children's would have to learn the theoretical part and they quite find it difficult and boring as well but now it has been totally reversed not only this, a hike in marks has also been experienced.
On the other hand, extreme handling of systems can lead to an unfavorable brunt on children's mind. Because their age is delicate and they would do actions whatever they are taught and see. So it's not at all good for them if they will surf net all the time. Additionally, they will not only kill their precious time precious time but also they would stop spending quality time with their near and dear ones. To exemplify, recently an app was launched named 'Blue Whale' and after the installation of that, it has been seen that myriad kids and adults committed suicides. So to eliminate this situation we should not allow children to use systems.
 To conclude, though both the sides hold their own merits I am of the opinion that computers have become necessary in today's world. Also, we cannot deny this fact that computers have created a strong dependency on people as well as on children's too. Thus one can't imagine their life without it.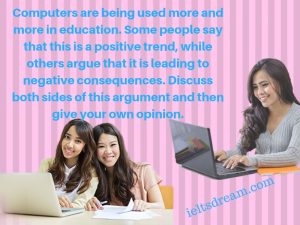 Computers are being used more and more in education. Some people say Computers are being used more and more in education. Some people say Computers are being used more and more in education. Some people say 
Diwali status 2018