Many parents (mostly women) decide to stay home and take care of the family members instead of going out to work. some people suggest that they should be paid by the government for doing that. Do you agree or disagree? Give reasons for your answer and include examples from your own experience.
The fabric of society is such where parents especially women prefer to stay at home to take care of their family members at the cost of their professional life. some people think that they ought to be paid financial assistance by the authority for taking these responsibilities. In this essay, I will present my disagreement with this approach as it does not seem to be a practical solution.
There is no doubt that the majority of the countries are allocating funds from their budget to improve the lives of its citizens, however, they need to utilize this money in an effective way. This is because the primary responsibilities of administration are to provide fundamental things like clean drinking water, sanitation, food, education, and medical facilities. Therefore, for a greater good, it is necessary to focus on things which could improve the life of all the citizens. In contrast, if a government fails to provide these provisions to its people then it will directly impact on their health and lifestyle. For example, In India, the government struggles to provide the basic facilities to all the citizens hence it does not make any sense to divert funds towards providing a stipend to a family caretaker at the cost of the mass.
Addition to this, it is a personal decision of the individuals to stay at home to take care of their family. Thus, it is not necessary for the administration to provide any financial benefits to people for any of their personal preferences. This may lead to chaos in the society because others who are not able to work for any reason will also demand easy money. However, this could be addressed by recruiting a caretaker at home. By this way, they can take care of their family with work.
In conclusion, although there is an argument in favor of paying money to the person who stays at home to take care of their dependent. I certainly disagree with this thought because it is a personal decision of an individual, and the government has other important things to address.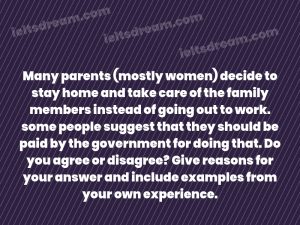 Many parents (mostly women) decide to stay home and take care
Many parents (mostly women) decide to stay home and take care
Many parents (mostly women) decide to stay home and take care
Many parents (mostly women) decide to stay home and take care