Sample 1 ( The Karan Lake in Kurukshetra )
Well, I belong to holy City Kurukshetra and there are a plethora of places where I love to go with my friends as well as my near and dear ones. For example, Jindal Park, sheikh Chilli tomb, Brahma Sarovar, museum, art gallery and so on. How ever, here I would like to talk about" Karan lake" which is my favourite spot to visit with my friends.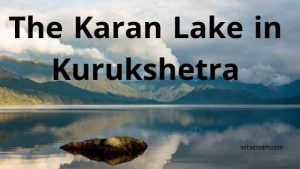 This lake is situated about 15k.m away from my hometown. I visited there so many times in order to take a break from my mundane and monotonous routine. In fact, I prefer to go there only on weekends and when I have some leisure time. It is a very famous place in Haryana. It is in fact a major crowd puller. A number of people visit this place every day.
I visited there recently last week with my friends to spend our free time. One of my friend's cousin went there the first time and he was very excited to see the beauty of this lake. The whole environment of that place was amazing and wonderful. We normally go there with our own vehicle because I think it is very convenient and uncomfortable. Generally, we start our journey around 9 to 10 a.m. in the morning because in this way we have so many time to spend there.
After Reaching the place, firstly we do refresh ourselves and then we head towards the lake. this lake is man-made and the bank of the lake is really great to watch. lots of people always come there, consequently, this place is hustle and bustle.
we always carry our stereo with us and play some music on it. we also tap our feet on some latest Bollywood and Punjabi numbers. in addition to it, sometimes, we play cards and antaksheri as well with others.along with this, we always enjoy boating which is the most interesting part of our visit.
last but not least, we enjoy the sunset which looks very mesmerizing from the bank of lake.we normally spend as much as free time there because it is very relaxing place .all in all, that is a place where I normally spend my free time with friends.
Sample 2 ( Preet Park in HomeTown)
Well, there are a number of tourist places available in India. Some are historical buildings and some places are constructed by the Indian government. I visited some places such as Red Fort, India Gate, Qutub Minar and so on. But here I would like to talk about the place where usually I spend my time with my friends. That place is the park name, Preet Park. I describe it briefly.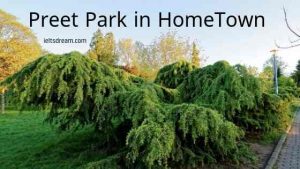 This Park is located in the city centre in my hometown. Many people go there during the evening or morning time. I also visit three times a week. There, my friends are also Visit. It is a big park which is divide into three sections. The first section is specially made for children because some swings and roundabouts are available. Kids can enjoy there with the help of swings. Also, they can play games with their friends.
In the second section, the yoga section and a jogging path are available there. In the morning time, many people go there for exercise and walk. Some people do yoga in groups. In the third section, senior citizens sit with their friends on benches. They gossip with each other. Along with this, some older people read newspapers by sitting there.
Apart from it, an open gym facility is also available there. Whenever I go there, I use this facility to keep my body fit and healthy. I like this facility because people can use it easily who can't afford high expenses for the gym. Moreover, mostly I go there in the morning time because at the time I get a chance to breathe in the fresh air.
Also, I do exercise or yoga there on the green grass of Park. My friends also come there to do jogging. All in all, that is a place where I spend my time with my friends. It helps the main to share my emotions with them. This is a beautiful Park where I visit.
Follow Up Questions-
Where people like to go with their friends and why?
Well, I live in India. Here people like to go to parks, art galleries, museums, historical places, shopping complex and so on. They do it because they can spend time with their friends by visiting mentioned places.
Do you think people throw  waste in parks?
yes of course, sometimes illiterate or careless people throw litter in parks and make it dirty. To add to it, sometimes persons do such the things due to lack of dustbins in parks. I believe that parks or other tourist places are important part of our life and we should keep them neat and clean.
What are the benefits of tourist spots?
Well, there are a number of benefits of tourist places. Firstly, people can spend their free time with their near and dear ones  by visiting tourist places. Secondly, they get a break from their mundane routine and refresh their minds. Thirdly, some people have hobby of visiting new tourist places and they can enjoy it in their pare time. Last but not the least, government get a little amount of money from visitors  as a entry fees. Authorities do it to maintain the beauty of tourist place. So, it also beneficial for nation.
Do young ones like to visit parks?
Yes definitely, nowadays, young ones are  very health conscious. They go to parks or play grounds for morning walk and exercise. Also, they like to do jogging in parks during evening time. All in all, they like it very much and also encourages others to visit parks.