The diagram below shows the typical stages of consumer goods manufacturing, including the process by which information is fed back to earlier stages to enable adjustment. Write a report for a university lecturer describing the process shown.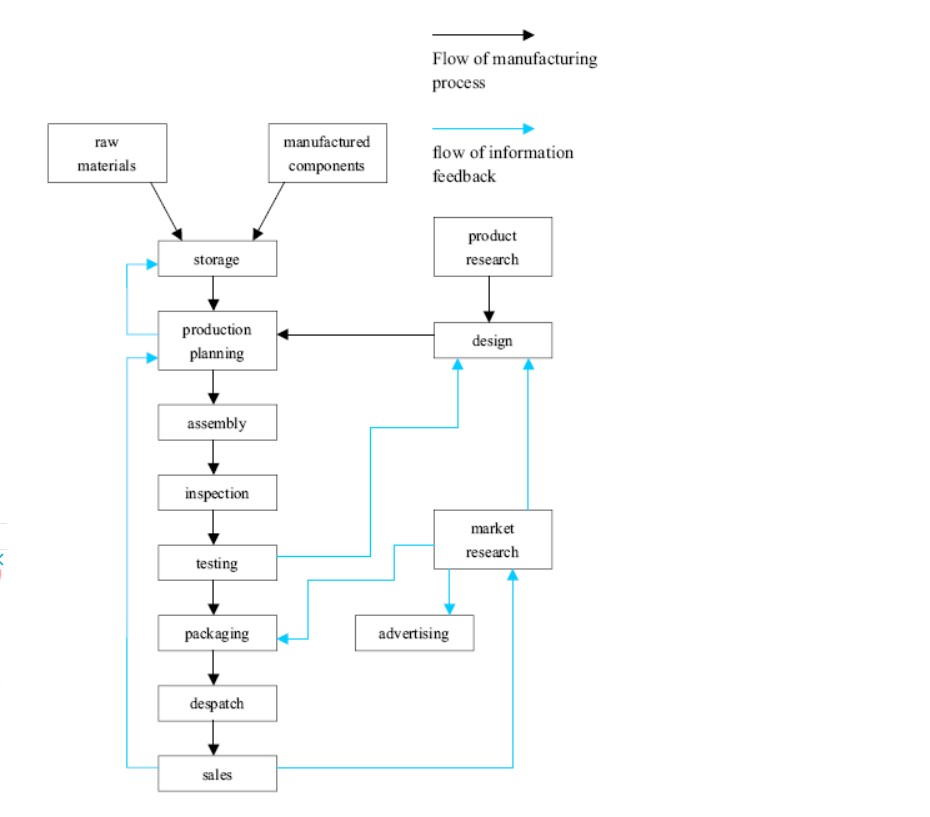 The flow chart of consumer goods manufacturing shows several steps that indicate a step-by-step process and give required feedback to an earlier stage to improve the sales of goods. These steps are totally divided into fourteen steps. Arrow with black colour shows the flow of manufacturing process, and Arrow with blue colour shows the flow of information feedback.
In the flow manufacturing process, there are 12 stages. The initial stage of goods manufacturing is to collect raw material and store it at the company's storage. At the same time, manufactured components are also brought up at the storage. Storage work is that to supply raw material and manufacture components as per their requirements. Simultaneously, product research work is also initiated. The Product Research team designs required manufacturing goods, and those designs are sent to the production planning team. The production planning team set up the sysaccording to the storage department's per design and demand for raw material and manufactured componment. Manufacture good send to assembly department into various parts. Those parts are assembled in the assembly of the department. Afterwards, assembled goods are forward to the inspection department for inspection. Inspected goods are sent to testing, and various tests are taken on the product. The verified and fit products are moved for packing. After packaging, the product is ready to dispatch to the sales department. In the end, the sales department sold those products to market.
In the information feedback process flow, important updates are given from the next stages to the previous stages. At the production planning stage, feedback about raw material and manufactured components information is sent to storage. The testing department sends feedback information about the failure of a product to the Design Department. The sales department give feedback information to production planning about the product, and at the same time, it sends feedback to the market research team to find the market for solving products. Market Research department totally send three feedbacks. First feedback send to Design Department about product structure. Second feedback sent to packaging department about the latest trend in packing, etc. Third feedback sent to advertise department to publish advertise to society about this product.
To conclude, the systematic and step-by-step process makes work effective and easier. Feedback gives an improvement in products (goods).
Follow Us Our Facebook Page For Updates related to IELTS material.
Also, Read The chart below shows the results of a survey of people who visited four types of tourist attractions in Britain in 1999.