The maps below show the town of Lynnfield in 1936 and then later in 2007. Summarise the information by selecting and reporting the main features, and make comparisons where relevant.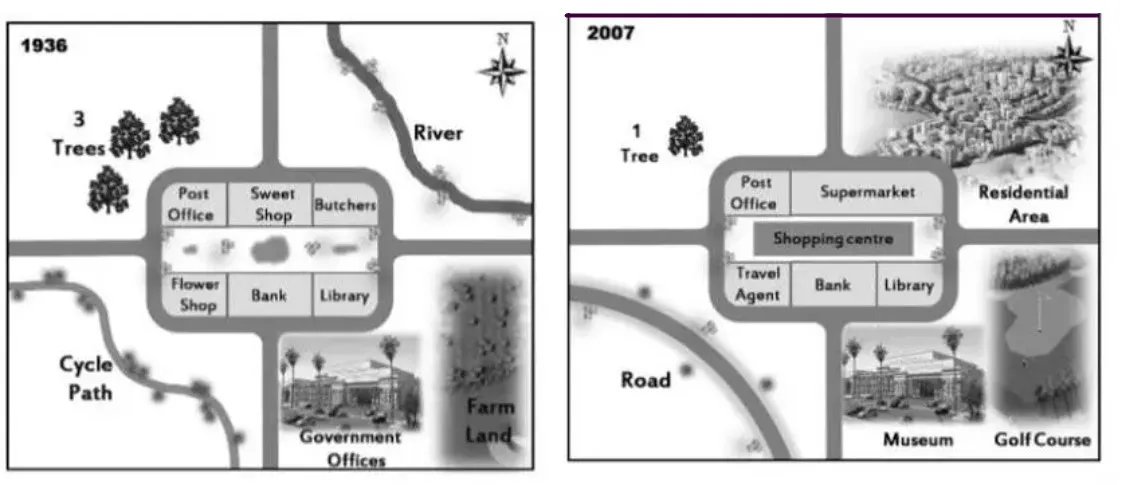 The maps depict the beautiful town of Lynnfield in 1936 and 2007. There were huge changes in the physical environment during these years.
Overall, the area of the town was rectangular in shape with no change in location for Post Office, Bank, and Library. In 2007, the shopping center was built exactly in the middle of the town.
In 1936, there were three trees towards the northwest part of the town, and in 2007 it reduced to just one tree. The road which connected the southern and western parts of the city was replaced later by a cycle path. Their flower shop was removed and replaced by the travel agent in the year 2007.
The sweet shop and butchers were merged, and a supermarket was built by the year 2007. In 1936, the river which was flowing from the northern to the eastern part of the town was dried and dumped to create a residential area. The government offices and farmland which were present in the southeastern part of the city were later renovated into a museum and golf course.
Follow Us Our Facebook Page For Updates related to IELTS material
Also Read Some Countries Are Considering Imposing Curfews in Which Teenagers